Shopping Cart
Your Cart is Empty
Thank you for your business!
You should be receiving an order confirmation from Paypal shortly.
Exit Shopping Cart
*CHIHUAHUAS FOR SALE -- ADULT ADOPTIONS*

AVAILABLE CHIHUAHUAS (One Year Of Age & Older) -- UPDATED 2/20/21

Young adults, retirees & rescue Chihuahuas looking for loving homes.
**I HAVE A DARLING BOY JUST UNDER 1 YEAR LOOKING FOR A LOVING HOME. THANK YOU.**
**NOTE THAT** due to their small size, Chihuahuas are best suited for adult singles or couples without younger, rowdier children (older, gentler children are fine), and without large, aggressive dogs, as they do best in an environment with a gentle touch, and dogs of their own size.
MY ADULT DOGS ARE SWEET AND LOVING, AND GIVEN SOME TIME TO ADJUST TO THEIR NEW ENVIRONMENT, AN ADULT DOG CAN PROVIDE YEARS OF UNCONDITIONAL LOVE AND COMPANIONSHIP WITHOUT THE RIGORS OF THE PUPPY PHASE!
LOOKING FOR A CHIHUAHUA PUPPY? If you are interested in adding a Chihuahua puppy to your home, please visit my **CHIHUAHUA PUPPIES FOR SALE** page -- beautiful, well-bred companions and quality show/breeding prospects!
AVAILABLE ADULT COMPANIONS
AVAILABLE YOUNG ADULT MALE COMPANION (Already Neutered!)
PLEASE EMAIL ME FOR MORE INFORMATION!
CUBBY IS HANDSOME BOY, JUST UNDER 1 YEAR OLD (DOB 3/13/20), ALREADY NEUTERED, WEE WEE PAD AND OUTDOOR TRAINED, CRATE TRAINED. LOVES FETCH AND BELLY RUBS!! Approx. 8-1/2 lbs.
Adoption Fee: $350
BEST FOR A QUIET, ADULT HOME -- COULD YOU BE HIS NEW BEST FRIEND???
Looking for a quality show prospect or well-bred companion?
Please EMAIL ME if you are looking for a truly well bred companion, or are a caring, responsible smaller sized breeder looking for that special Chihuahua to take your program to the next level. Unless otherwise noted, all Chihuahuas are offered as altered companions. If you want to show/breed your new Chihuahua, please let me know up front. I am open to working with ethical show/breeding homes and "newbies" serious about getting off on the right foot. I have only about 1-3 well planned litters a year, always with the goal of betterment, and only breed carefully chosen, superior quality Chihuahuas from the breed's most exceptional bloodlines!
Feel free to email me at [email protected] if you have any questions. Thank you.
PLEASE HELP STOP PUPPY MILLS!
THIS IS WHERE THAT "DOGGY IN THE WINDOW" REALLY COMES FROM! No matter what they try and tell you, the fact is that almost all puppies sold in pet stores come from "USDA inspected" facilities where the dogs live out their sad lives in hellish conditions just like these! PLEASE DO NOT BUY A PUPPY FROM A PET STORE! We can stop the cruelty and misery that is the life of a puppy mill dog if we stop financially supporting those who use and abuse animals for greed!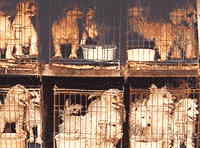 PLEASE do your homework when purchasing a puppy online! Don't be fooled by pretty pictures of cute puppies. Ask questions, ask for pictures of the parents (do they look healthy and happy?). The breeder should also ask questions and care about where their puppies/dogs end up, not just how payment will be made, as well as be able to provide veterinary and other references. Support responsible, ethical and humane breeding practices, and not those who breed only for profit! Thank you.
Follow Chielle Chihuahuas on Facebook!
/